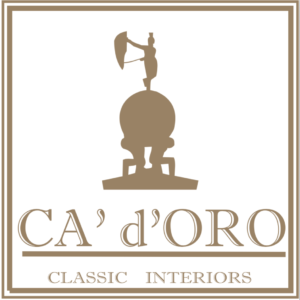 Ca' d'oro was created in 2006 and represents the point where the history of "kitchen furniture" and "classic furniture" meet the desire to make a "classic, timeless" product, incorporating all the craftsmanship of italian tradition in which the ancient cabinetmaker's art has been passed down for generations.
Ca' d'oro passes on these values through the care that has been taken in selecting the solid ash and lime wood, which are the true soul of every single piece. This product also expresses its great value through the colour plus the finish achieved in the most traditional ways of the past; the use of shellac, lithopone, fish glue and sandrac (necessary basic products) ensures good surface protection and an even finish. Luciano dal bello has designed and painted the collections for the "casa di ca' d'oro" – a home that tells us of his childhood through the doorway of his memories: the colours of nature, the fruit trees, the intense fragrance of beeswax and the smell of wood coming from the varnished furniture. Love has gone into the design of CA' d'Oro, while the craftsmanship and care taken over its magnificent details transform the design into furniture with a high emotional value and classic beauty.
There are pieces of furniture that are a dream and can no longer be found; CA' d'Oro reconstructs them with infinite care, faithful to timeless values so as to be able to hand them down to the persons we love.