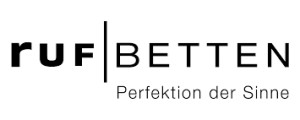 Perfection of the senses.
Let the day fade out in an atmosphere of total relaxation, and look forward to a refreshing night – a bed from RUF is much more than just a space for sleeping. It is your totally personal feel-good oasis, a place of retreat for body and mind – a place where you can replenish your forces for the challenges of everyday. That and nothing less is what you expect of our products. And this is why we offer you much more than just a bed, more than just a unique design. We know that a high standard of sleeping comfort embracing many aspects is essential if your are to get a sound and healthy sleep – comfort that we always consider systematically in relation to your individual requirements. Sleeping comfort we always tailor precisely to your individual needs. Box spring inside or outside, modern or classic, triple comfort or vents integrated inmore about beds are just a few examples from our extensive range.
Be inspired by design ideas with clever functional solutions, individual diversity and unique comfort options. We have some 300 different designs and qualities – currently the largest selection on the market – for complete design freedom and maximum individuality.
With high quality craftsmanship and attention to detail we make your dream bed especially for you – at our Rastatt production site in the heart of Baden-Württemberg. Every bed is unique of course! Tested quality made in Germany, with numerous international design prizes and awards from independent institutes