brühl | attitude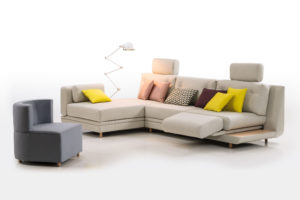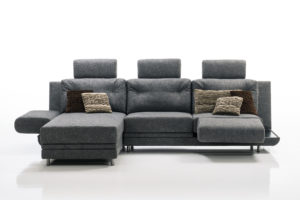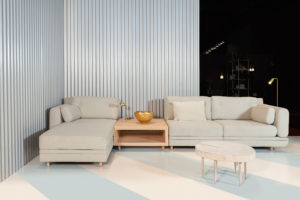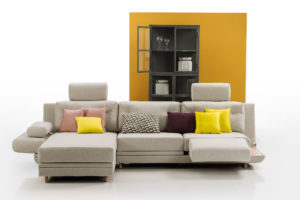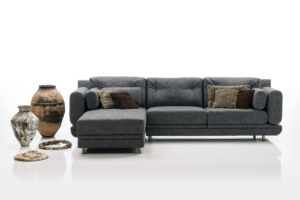 attitude
Design Kati Meyer-Brühl
The variable attitude corner solution consists of a longchair with movable and lowerable side rest element and a 2- or 2.5-seater separate sofa with a swivel armrest on outer seat. Pads can be mounted on the headrest mounts hidden in the back of all three seats. The covers are removable. Shown here in natural-coloured fabric and decorated with a range of additional cushions.




brühl | amber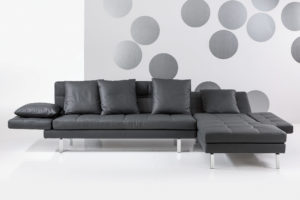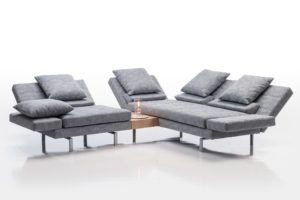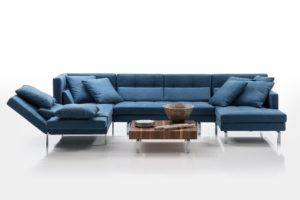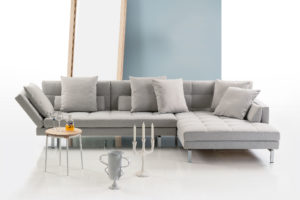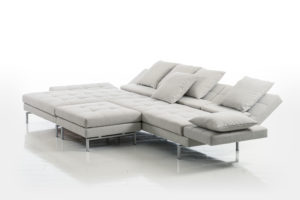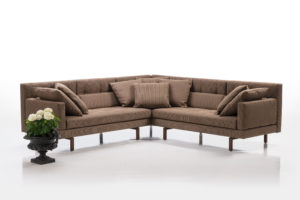 amber
Design Roland Meyer-Brühl
amber is a multifaceted interior range and a versatile haven with numerous conversion options – with fully adjustable arm- and backrests, soft diamond-quilted upholstery and a clear, geometric structure. Here as a luxuriously dimensioned corner formation consisting of an extra wide 120 cm longchair and a 2.5-seater annexe sofa with a high armrest. Longchair either 120 or 90 cm wide and 136 or 161 cm long. Armrests optionally in a high or low version.




brühl | ladybug dream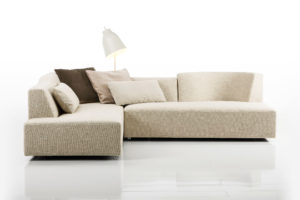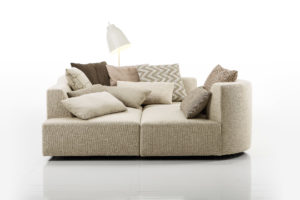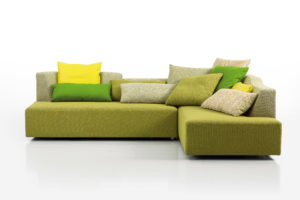 ladybug-dream
Design Kati Meyer-Brühl
Sit down, lie back, dream: ladybug-dream blends curved shapes with a cubic basic design to form a uniquely comfortable relaxation zone. The design is available in two different sizes from compact to generous: small and medium. Versions ladybug-dream small and medium are suitable for use as an occasional bed as the mid-section of the backrest can be lowered. Shown here: ladybug-dream small in a two-tone structured fabric, removable, and with four cushions.




brühl | nook/2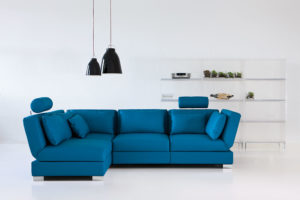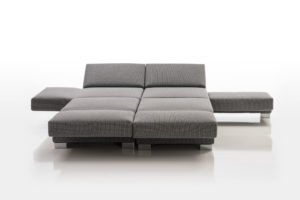 nook/2
Design Roland Meyer-Brühl
The versatile nook livingscape beckons with cushion-soft lounging luxury. Its adaptable and intelligent multifunction design provides ample space for carefree relaxation. Both outer seats feature swivel functions that allow them to be brought into lounging position. The backrests can be individually lowered for each seat.
All seats are fitted with hidden headrest mounts for attaching pads to. Thus, height- and angle-adjustable headrests can be added to the sofas even at a later stage. The softly structured lines and upholstery give nook a cosy, casual look; the sofa's generous proportions offer luxurious comfort. The covers are fully removable.




brühl | four two/2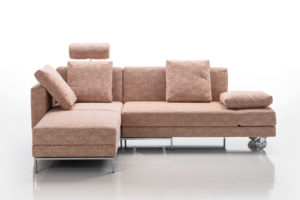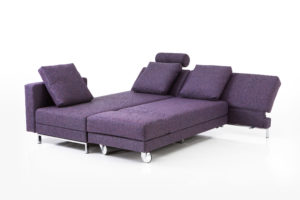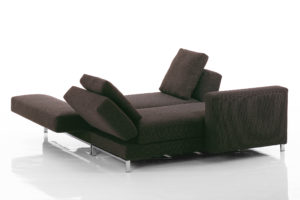 four-two/2
Design Roland Meyer-Brühl
Multifunctional piece for small interiors: This architectonically distinct corner solution consisting of longchair and swivel sofa provides intelligent transformation options and excellent comfort. Beneath the sofa's armrest a table can be found. The recamier's armrest can be pulled forwards and thus turns into a backrest when sitting down. All covers removable. Based on a chrome frame and fitted with aluminium castors.




brühl | alba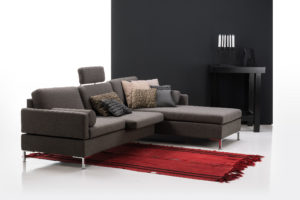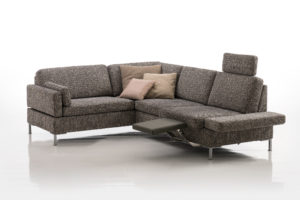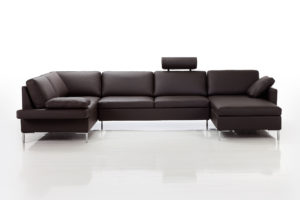 alba
Design Roland Meyer-Brühl
The three interior programms alba 55/70 – all in one, alba system/m and alba system/o allow individually customisable interior solutions – such as compact or generously-sized corner suites.
The alba 55/70 – all in one range offers ultimate comfort right from the start. All models feature integrated mounts for upholstered headrests; these mounts disappear inside the backrest when not needed. All are equipped with extendable seat cushions to allow the seat depth to be adjusted to anything between 55 and 70 cm. As with alba system, certain features such as the armrests and the seat height can be individually customised.
The alba system/m range offers integrated headrest mounts and the alba system/o range, is optional fitted with headrest mounts. Both programmes are based on the fundamental idea of providing a choice of flexible, customisable seating configurations like loose or firmly attached seat cushions, armrests, seat height and depth or optional additions such as footrests.




brühl | tam
Invitingly uncomplicated relaxation area with maximum flexibility; created with two open-ends in red and completed by an additional headrest. Each of the open-ends features separately adjustable back- and armrests – perfect for use as an occasional bed – as well as castors. Covers: cotton-mix fabric, removable.




brühl | roro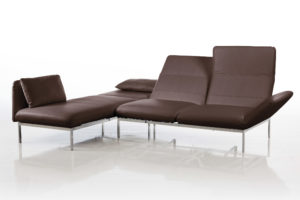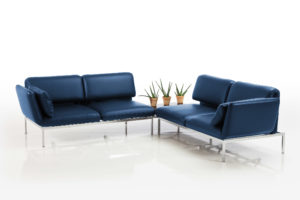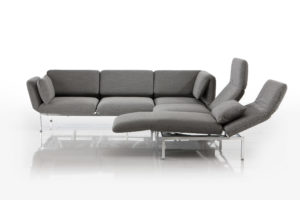 roro
Design Roland Meyer-Brühl
The multifunctional roro-medium and roro-small ensembles offer a high level of sitting, lounging and sleeping comfort. They are fitted with removable fabric or leather covers and with a graceful base frame in chrome or black chrome.
Shown here as a multifunctional arrangement of a longchair and a two-seater with purist elegance, accentuated by supple leather surfaces and a graceful chrome base frame. The seat on the right is a variable swivel seat. The range is completed with a matching occasional table.




brühl | moule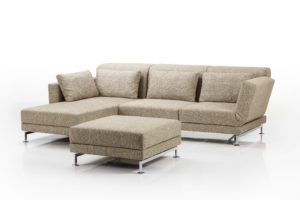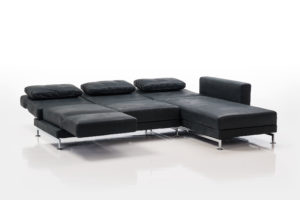 moule
Design Roland Meyer-Brühl
The moule corner suite in dark brown leather, consisting of a recamier with a movable side element and an annexe-sofa with a swivel seat on the right-hand side, is unsurpassable in terms of comfort, aesthetics and adaptability. The various relaxation functions can be activated from a sitting position. A height-adjustable base frame in polished chrome provides additional comfort. Removable covers.




brühl | deep space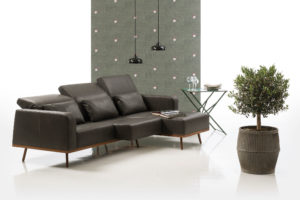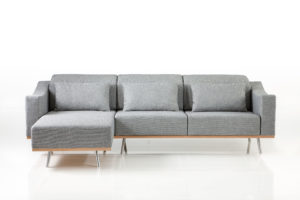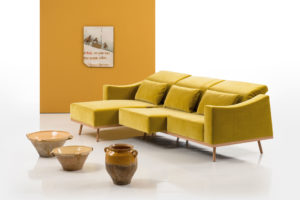 deep space
Design Kati Meyer-Brühl
deep space's innovative shape – curved armrests, slightly tapered back, graceful base frame – looks elegant and floating. Shown here as a compact, cosy corner suite, consisting of a longchair and a two-seater in yellow velour, with a frame and feet in beech. Seats and backrests are fully extendable/adjustable. Wooden elements also available in oak or walnut. With removable textile or leather covers. Optionally with curved armrests a or cuboid armrests b.




brühl | tomo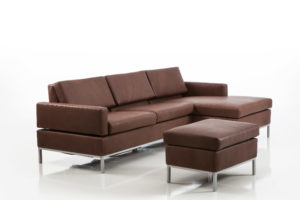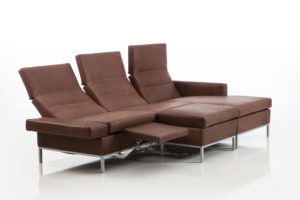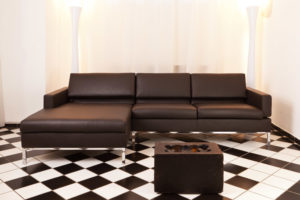 tomo
Design Roland Meyer-Brühl
tomo compact: This linear, relaxed combination of a longchair and a two-seater annexe-sofa in soft, dark brown leather is a wonderfully comfortable place to unwind, with seat elements in 70 or 85 cm width. tomo is swiftly turned into a super-comfortable lounging position by tilting the fully adjustable backrests and lowering the armrests. Based on a graceful chrome frame.