brühl | gerard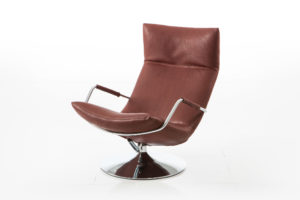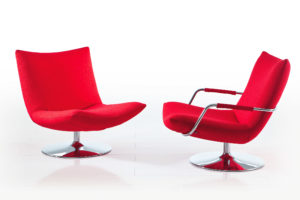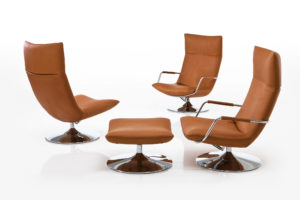 gerard
Design Johannes points & Peter Hiort-Lorenzen
The purist Recliner gerard, here in the exemplary high, invites you to linger. The elegant form is emphasized by curved armrests and a rotatable chrome round base. High-quality cover of open-pore natural leather or textile.




brühl | lemon-blossom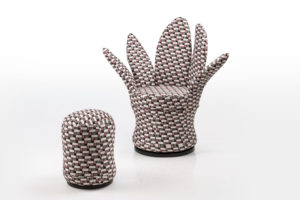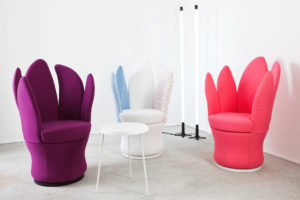 lemon-blossom
Design Kati Meyer-Brühl
lemon – blossom is a refreshingly vital, decorative and unique piece of furniture that combines elementariness with Mediterranean flair, adding an exuberant air to living rooms and lobbies. For variable comfort, lemon is fitted with three adjustable rest elements, an optional stool and a swivel base. The armchair is fitted with removable covers in fabric, leather or high-tech material. Shown here with fabric covers in graphic design.




brühl | poem
Armchair poetry: poem issues an invitation – feel embraced; relax, sit down and read. A favourite spot, gently rounded and protective, well-balanced and organic looking thanks to the curved outline. The sweeping shape of the sides runs all the way from the wings to the armrests, which taper towards the front. The headrest, with dividing seam and decorative button back finish, perfectly adjusts whilst sitting and fully supports the head at all times, thereby ensuring unrestricted relaxation. poem rests on a swivel base with a tilting function operated by shifting your weight, thereby offering additional relaxation positions.
The armrests are covered in a matching fabric or leather or they are finished in solid beech, oak or walnut. The covers are removable.




brühl | morning dew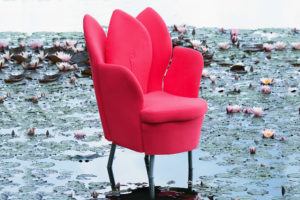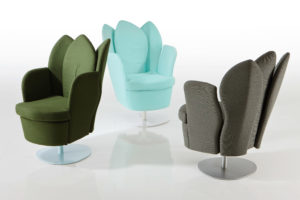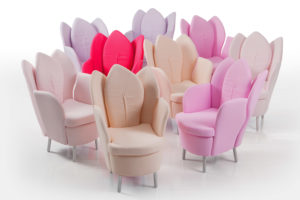 morning dew
Design Kati Meyer-Brühl
The morning dew armchair elegantly stretches towards the light – like a flower on opening. It epitomises the cresting romance between green living and floral elegance. In textile or soft-touch leather, removable, and with aluminium, chrome or wooden legs or a swivel base.




brühl | tomo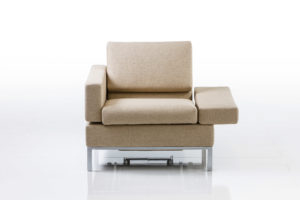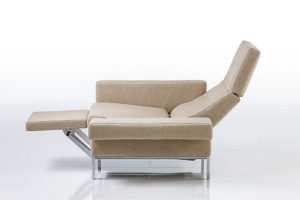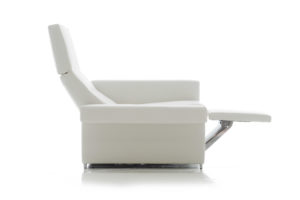 tomo
Design Roland Meyer-Brühl
Classic, comfortable armchair covered in beige structured fabric and based on a graceful chrome frame. The armchair is swiftly turned into a super-comfortable lounging position by tilting the fully adjustable backrests and lowering the armrests (side element a). With an integrated footrest that is invisible once folded away.




brühl | serge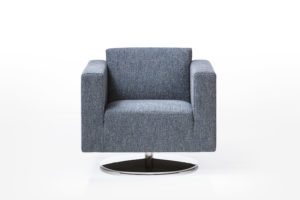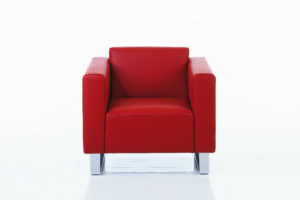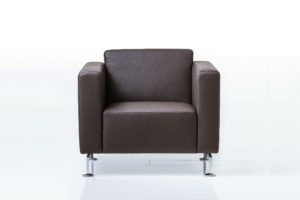 serge
Design Roland Meyer-Brühl
Cubic chair serge in distinct leather design or textured fabric goes universally with many seating groups and interior styles.




brühl | dive
dive may be covered in various textiles or leather, optionally even with contrasting covers for seat/backrest and armrests. The swivel base plate can be painted pink, black, white, or aluminium-coloured.




brühl | lucky
Rocking in bouffant lucky-basic outfit, innovative in high-tech covers, washable, or alternatively in cotton, marked with the EU eco-label flowers. Removable covers available in numerous colours. The stylish rocking chairs are ideal as soloists or for creating colourful groups of chairs.




brühl | JO low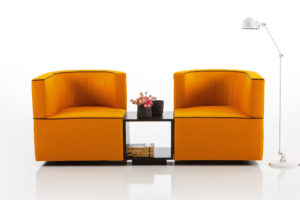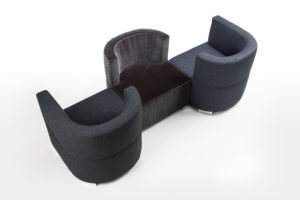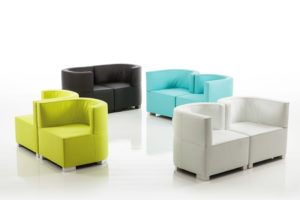 JO low
Design Kati Meyer-Brühl
Handy dimensions of 72 x 72 x 72 cm make JO low the perfect piece of furniture – also for smaller rooms or public spaces. The compact, semi-open armchair with an elongated backrest either on the right or on the left and the chair with short rest elements may be arranged in a wide variety of ways. It takes no more than two JO low chairs to make up various compact seating options. Basis: optional swivel base, hidden gliders or visible wooden feet, painted black/white or in natural beech, oak or walnut. Backrest and seat base covers separately removable. Cover material: fabric or leather. Here: row of seats with covers in velour, structured fabric and a fabric in vintage style.




brühl | JO high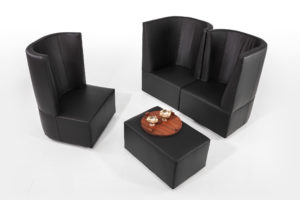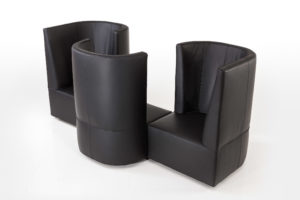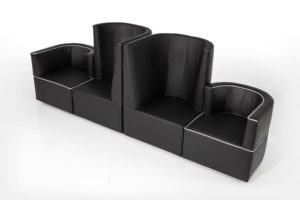 JO high
Design Kati Meyer-Brühl
JO high, with a 110 cm high backrest that tapers towards the top and slightly larger 80 x 80 cm seats, is very comfortable to recline in and ideal as a room divider, a personal refuge or a geometrically inspired accent piece. The tall backrest envelops the sitter yet the design also clearly establishes a relationship with the surroundings. Depending on how JO arranged, it can therefore be used to create a protected space within a wider space, an open row or a waiting area that offers privacy. The different backrest types allow numerous alternative options – also in combination with lower JO armchairs. The cuboid stool can also serve as an occasional table.




brühl | mosspink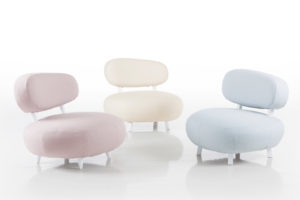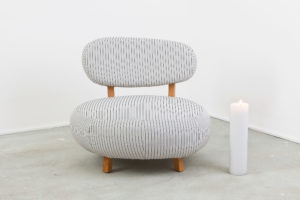 mosspink
Design Kati Meyer-Brühl
The organically curved mosspink chair sculptures may serve as perfect additions to the sofas, as distinctive accent pieces or as cheerful, versatile seating arrangements with or without an occasional table. Seat and backrest may be covered in different shades and materials. Covers in wool, cotton or leather, removable. With wooden feet, natural or painted black or white, or aluminium feet.
The synthesis of ecological, durable materials, environmentally friendly production and timeless design guarantees maximum quality and sustainability.




brühl | dave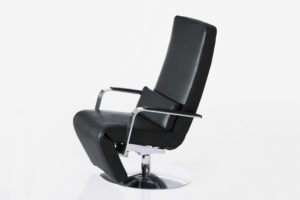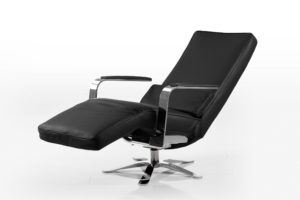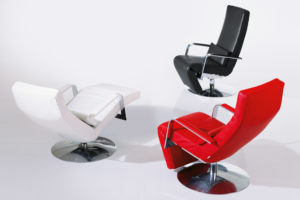 dave
Design Johannes Foersom & Peter Hiort Lorenzen
dave adapts perfectly to any sitting and relaxing position. Generously curved armrests in chrome and leather and the ergonomic shape of the high back armchair invite you to get truly comfortable by choosing the position that is most relaxing at that particular moment. With an integrated tiltable headrest and a footrest that is automatically raised when choosing the relax position. Elegant leather covers, chrome circular swivel base.




brühl | roro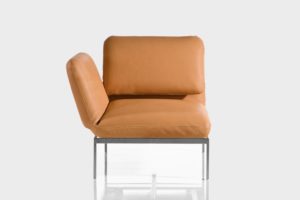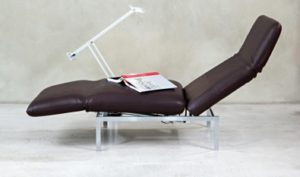 roro
Design Roland Meyer-Brühl
Linear lightness whatever the position. roro-medium and roro-small individual chairs or lounge chairs provide compact dimensions and numerous extremely comfortable sitting, reclining and lying positions. Here: individual chair roro-medium in lounging position. The chairs are fitted with removable fabric or leather covers and with a base frame in chrome or black chrome.




brühl | papillon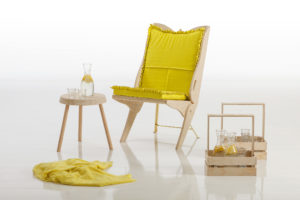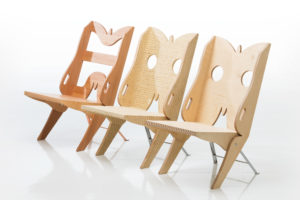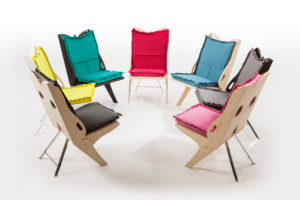 papillon
Design Kati Meyer-Brühl
The cheerful papillon armchairs inspire pure joie de vivre. The winged silhouette of the armchair's back, the graceful metal supports and the transparent basic wooden frame result in a cheerful, creative design. Foldable and easy to carry, the armchairs invite movement and spontaneity. The frame is available in either birch plywood, beech/spruce ply or solid beech, oiled, and can be combined with cushions in the versions pure, baroque or art deco and with supports in a range of finishes.




brühl | deep space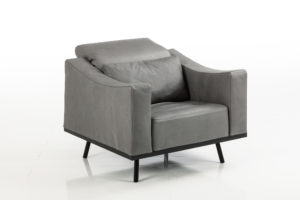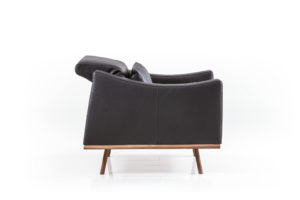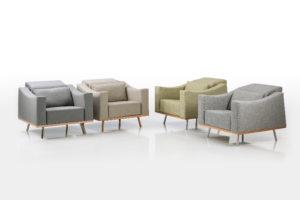 deep space
Design Kati Meyer-Brühl
deep space's innovative shape – curved armrests, slightly tapered back, graceful base frame – looks elegant and floating. The armchair can optionally be fitted with curved armrests a or cuboid armrests b. Seat and backrest are fully extendable/adjustable. Wooden elements available in beech, oak or walnut. Also available with aluminium feet or with filigree sledge bases. With removable textile or leather covers.




brühl | grace
Graceful practicality: grace is full of an exquisite lightness that appears to transcend the material. The clear-cut design effortlessly adapts to any style of interior and develops a strong aesthetic presence on the basis of the precise lines, edges and dimensions. The seat and backrest angle and the top quality upholstery provide a surprisingly high level of seating comfort. Either fully covered in removable fabric or leather covers or with an elementary plywood construction or with closed armrests. Covers optionally finished with accentuating flat-fell seams.




brühl | muskat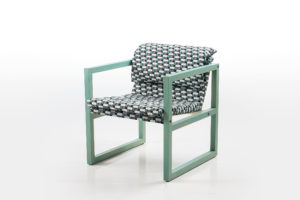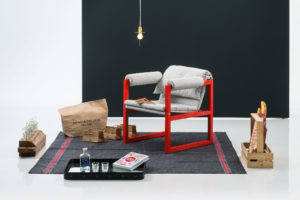 muskat
Design Kati Meyer-Brühl
muskat armchairs, with a fixed black or ecru canvas seat, upholstered loose cushions and a soft back cushion, look cosy and informal yet striking thanks to their reduced design – no visually distracting excess features or heaviness. Because of their minimalist, uncomplicated look, they fit in anywhere and develop their airy charm in rustic as well as urban interiors.
Optionally available loose armrest pads additionally increase the comfort level, which is already surprisingly high thanks to the angle of the seat and the back. The solid beech frame has been oiled using either a coloured or a transparent oil. Choice of fabric or leather covers available for the upholstered elements. Shown here with covers in utterly pliant red leather and a frame in the colour Strawberry.




brühl | magnat
magnat's appeal lies in the extreme simplicity and clarity and elegance of the design which, although sparse – not least also in spatial terms – not only looks lively because of the outwards curving armrests and the graceful outline but also offers plenty of freedom to move when sitting down. The high quality leather covers look particularly striking in the form of smoothly upholstered surfaces and also make these strikingly timeless pieces of furniture extremely durable.




brühl | on tour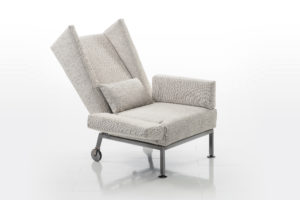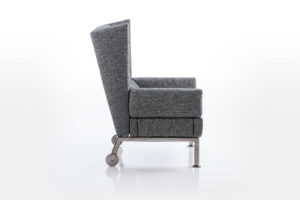 on tour
Design Roland Meyer-Brühl
Ready for change: High side and back panels turn the armchair on tour into a protective room within a room. The armchair features fully adjustable armrests, a backrest that can be lowered to lounge position, a separately adjustable headrest and height-adjustable feet at the front and castors at the back. Fitted with a base frame in chrome or black chrome and with removable covers.




brühl | amber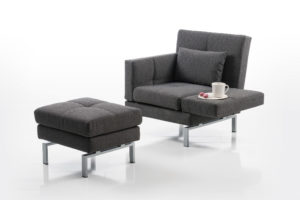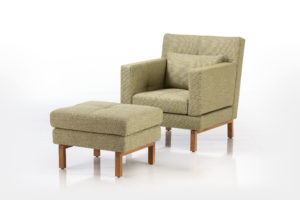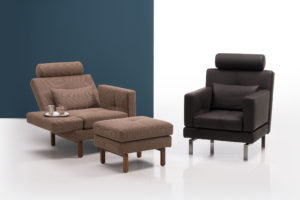 amber
Design Roland Meyer-Brühl
Versatile armchair – with fully adjustable armrests and backrest, soft diamond-quilted upholstery and a clear, geometric structure. Optionally to be complemented by a matching stool or an additional headrest. Resting on rectangular sledge bases in chrome or wood. Here: with grey wool felt covers, chrome sledge bases and a matching stool.




brühl | add1••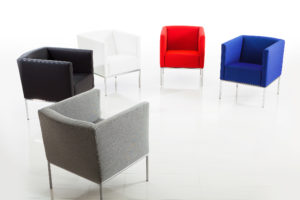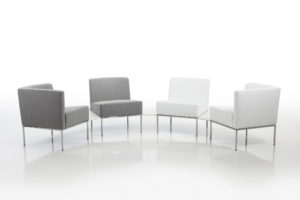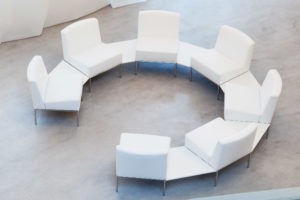 add1••
Design Roland Meyer-Brühl
The add1 chairs, two- and three-seaters and infinite add-on sofa ranges are distinguished for providing superbly comfortable seats in small dimensions and with a graceful, elementary overall appearance. With or without armrests and with removable textile or leather covers. Chrome base frame.




brühl | easy pieces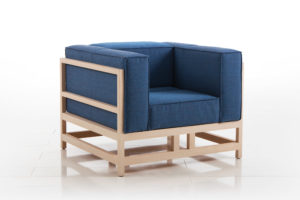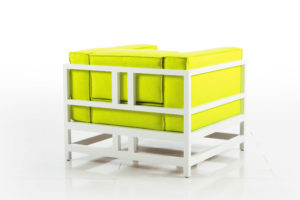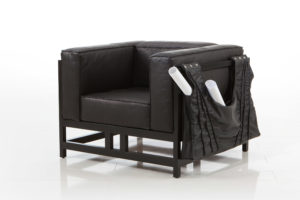 easy pieces
Design Kati Meyer-Brühl
The armchair easy pieces plain is fitted with removable textile covers and framed by a base made from solid beech, oak or walnut. Covers are available in numerous shades and materials.




brühl | powder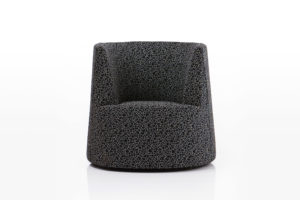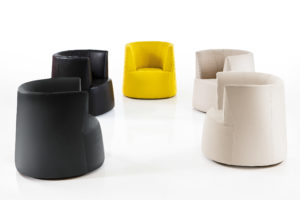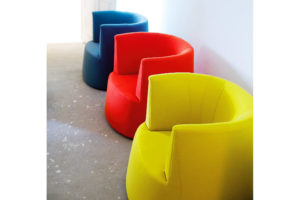 powder
Design Kati Meyer-Brühl
With their distinctive, clean-cut contours, the powder armchairs look ornate yet also geometrical and elementary. Details such as the slightly recessed armrests and the haute couture-inspired piping add extra elegance to their clear A-line silhouette. powder combines parlour flair with reduced and innovative design. The armchairs are therefore perfect for both contemporary and period interiors. Removable covers in fabric, high-tech or leather. Available in the sizes small, medium and large. Based on castors or, in versions small and medium, alternatively a swivel base.




brühl | sumo
Primal form plus first-class leather up to 5 mm thick in sustainable symbiosis. Powerful curves enhance the open-pore natural leather, including the bouffant fulled feel. Skilfully crafted saddlery shows leather expertise of the finest. Sumo sofa and club chair are super-comfortable characters of lasting value.




brühl | randolph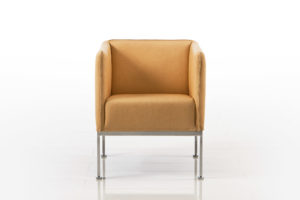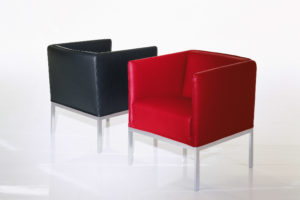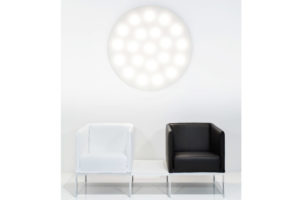 randolph
Design Roland Meyer-Brühl
randolph confidently represents minimalism coupled with exceptional comfort and a compact size, making this piece suitable for a wide range of interior styles. The sofas and armchairs are based on a graceful chrome frame and are fitted with removable covers in fabric, leather or particularly sustainable Oliva leather.




brühl | carousel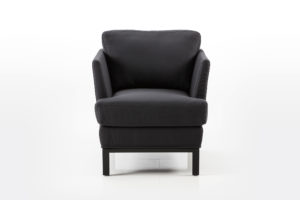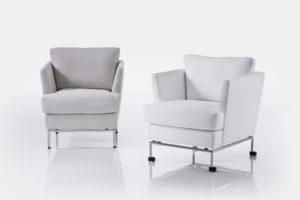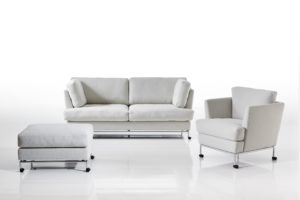 carousel
Design Roland Meyer-Brühl
With its loose seat cushion, the carousel armchair is a contemporary-casual, versatile and comfortable piece of furniture with soft, yet clearly structured lines. With removable covers in tobacco-coloured linen mix fabric and a graceful chrome base frame with additional castors.




brühl | visavis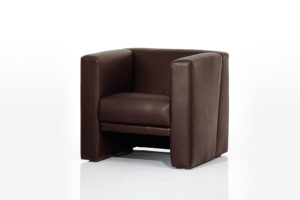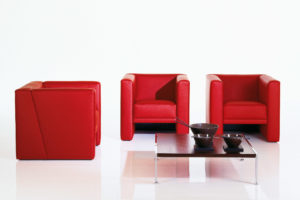 visavis
Design Roland Meyer-Brühl
visavis has represented a timeless, long-lasting investment for over 30 years. Clearly structured designer seating – as a precious accent piece or a distinctive seating arrangement. Covers in premium-quality leather, to be chosen from a range of 22 colours. Alternatively available in thick leather or Oliva leather.