brühl | quint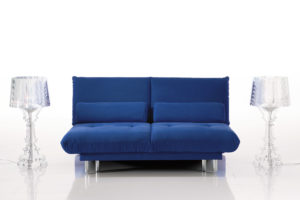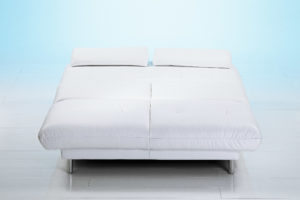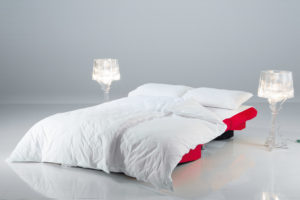 quint
Design Roland Meyer-Brühl
This trendy two seater sofa spontaneously adapts to many room situations and keeps a double bed up its sleeve. Easy to handle concertina mechanism, pulls out to make a 155 x 200 cm sleeping platform in a trice. Back support cushions for extra relaxation and solidly upholstered or removable cover versions, colourful or restrained.




brühl | adhoc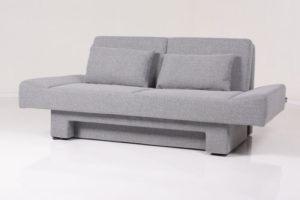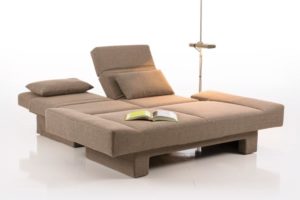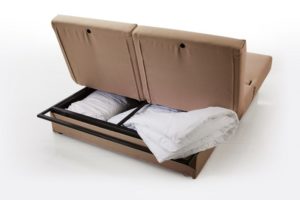 adhoc
Design Roland Meyer-Brühl
Simple, practical two-seats sofa which easily converts into a bed in a few seconds. Convenient and an individual headboard adjustable in several positions. Compartment for bed sheet at the back has enough space. Removable covers




brühl | square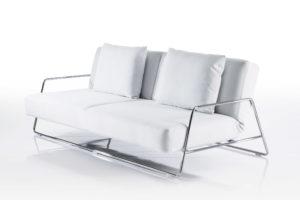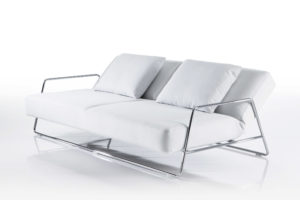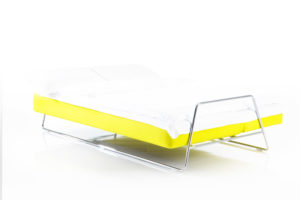 square
Design Volker Laprell, Volker Classen
Bed sofa square in distinct design on dainty chrome frame transforms itself from sitting and lounging position all the way down to a 130 x 200 cm sleeping platform. Adjustable twelf-position back element. Cover fabric in fresh or discrete colours, removable and replaceable.




brühl | cara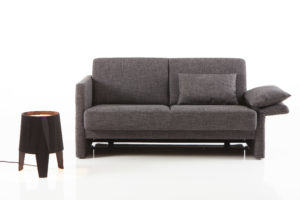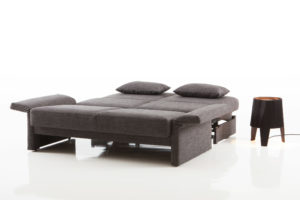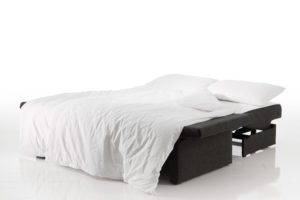 cara
Design Roland Meyer-Brühl
cara is a clearly designed, compact and attractive two-seater that can transform into a daybed or an occasional bed.




brühl | tam
Casually charming recamier, confidently stylish design as well as function. An oasis of leisure time calm. Back- and armrests fully adjustable, beautifully soft upholstery, generously-sized side cushion, removable covers made of cotton mix fabric and mobile with castors on head end. Feet and castors optionally in chrome or wood.




brühl | camp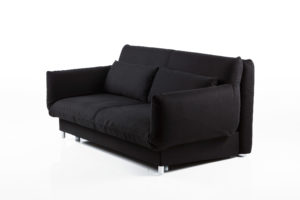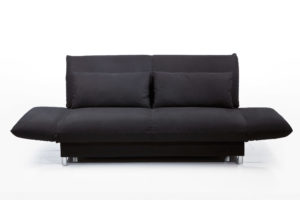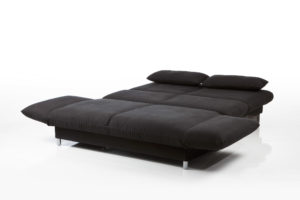 camp
Design Roland Meyer-Brühl
camp is an outstandingly comfortable, uncomplicated sofa bed in a compact size with a smooth, soft silhouette. The armrests can be lowered, allowing the sofa to convert into a daybed with the rest elements providing space for the head and feet. Removable covers, feet made from wood or metal.




brühl | on tour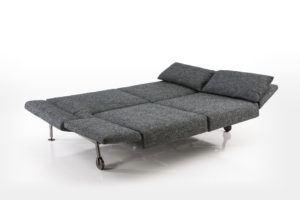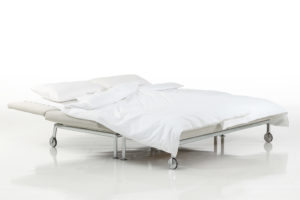 on tour
Design Roland Meyer-Brühl
Ready for change: High side and back panels turn on tour into a protective room within a room – which converts equally quickly into a perfect sleeping area. Folding down the sofa makes a comfortable sleeping area of 135 x 205 cm. Removable covers.




brühl | nook/2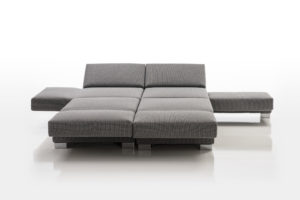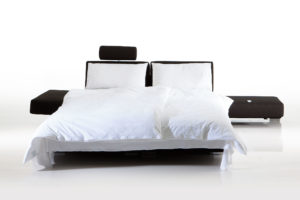 nook/2
Design Roland Meyer-Brühl
The versatile nook livingscape beckons with cushion-soft lounging luxury. Its adaptable and intelligent multifunction design provides ample space for carefree relaxation. The softly structured lines and upholstery give nook a cosy, casual look; the sofa's generous proportions offer luxurious comfort. The covers are fully removable.
Both outer seats feature swivel functions that allow them to be brought into lounging position. The backrests can be individually lowered for each seat. If required, nook easily turns into a comfortable 160 x 205 cm double bed softly framed by upholstered bedside tables and a bedhead.




brühl | ladybug dream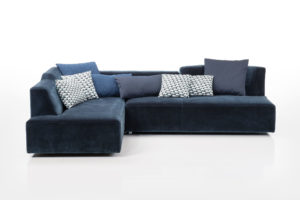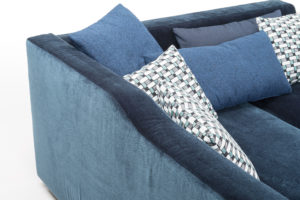 ladybug-dream
Design Kati Meyer-Brühl
Sit down, lie back, dream: ladybug-dream blends curved shapes with a cubic basic design to form a uniquely comfortable relaxation zone. The design is available in two different sizes from compact to generous: small and medium. Versions ladybug-dream small and medium are suitable for use as an occasional bed as the mid-section of the backrest can be lowered. Shown here: ladybug-dream small in a two-tone structured fabric, removable.




brühl | four two/2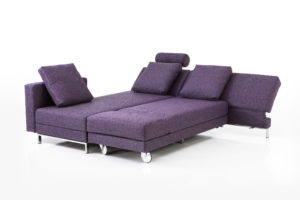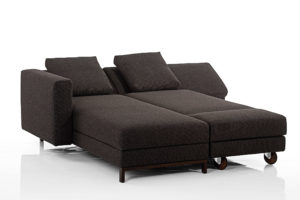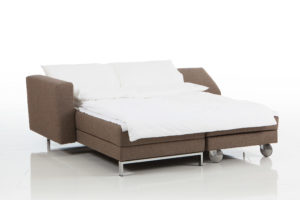 four-two/2
Design Roland Meyer-Brühl
Power package for compact spaces: four-two, consisting of a Recamier and a swivel sofa, features a range of clever conversion options and is extremely comfortable – as a corner solution seating four or as a cosy double bed. All covers are removable. Optionally available with an additional headrest that may also be ordered at a later stage.




brühl | easy pieces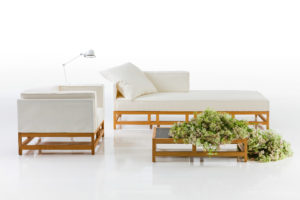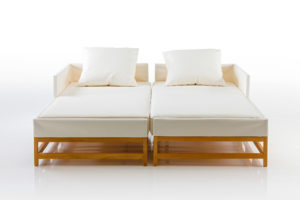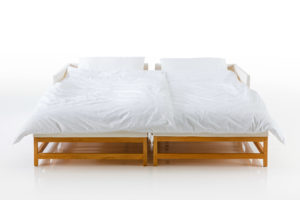 easy pieces
Design Kati Meyer-Brühl
easy pieces as a light daybed for living and sleeping, fitted with removable slip covers for the base frame and a premium-quality one-piece mattress with removable cover. Backrest element may be removed for the night. Cotton covers, oak base frame.




brühl | jerry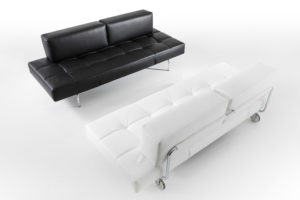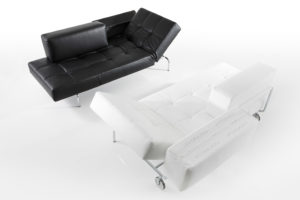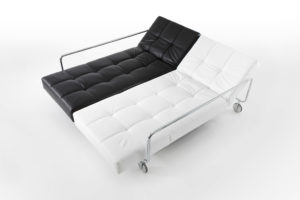 jerry
Design Roland Meyer-Brühl
jerry is an airy, luxuriously quilted lounger sofa, in leather or textile, with two striking, movable back cushions and a delicate chrome base frame. Sophisticated transformation functions provide first-class comfort.